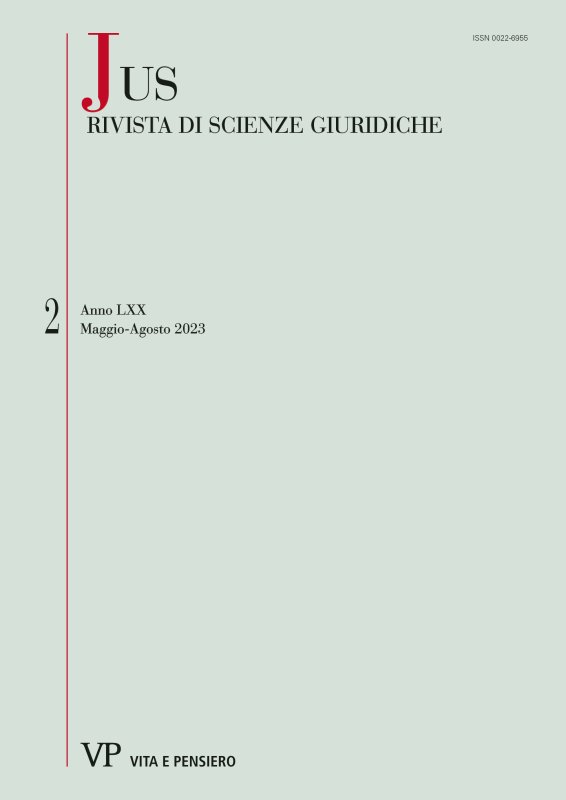 JUS
Journal of Legal Sciences
Edited by the Faculty of Law of 'Università Cattolica del Sacro Cuore di Milano'
The Faculty of Law of Università Cattolica del Sacro Cuore di Milano publishes a law review called "Jus – Rivista di Scienze Giuridiche"(Jus – Journal of Legal Sciences). In particular this review is focused on the analysis of the general issues of law which are examined considering principles and never-ending values of reason and justice. The latter must be affirmed and maintained for ever beyond historical changes.
The review contains a series of essays and papers. The aim of all these works is to actively contribute to promote and to defend human and fundamental rights, as well as to pursue the development of civil solidarity. All these perspectives of scientific research involve internal, international and UE legal systems.
Last, but not least, the review publishes focused and specific essays concerning legal problems and topics which every day challenge jurists operating in various legal fields.
The manuscripts sent by authors are submitted to a double-blind peer review before being accepted for publication.
See the Ethical statement
A An­vur Ca­te­go­ry for:
12th Area - Scienze giuridiche
In­de­xed in:
Scopus (accepted in 2022-12-19) - ESSPER - Index to Legal foreign periodicals - ArticleFirst - Dietrich's Index Philosophicus - IBZ - DoGI - IBR - EIO - PAO - ForoPlus - Google Scholar
Avai­la­ble on:
Tor­ros­sa
ISSN carta: 0022-6955
In this issue
SOMMARIO
FOCUS: LA RIFORMA DEL PROCESSO
Browse the archive
Recent issues
Available online
2023

issues