La CISL e il Diritto del lavoro
digital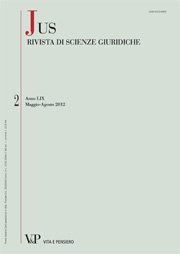 Ebook format Pdf readable on these devices:
ABSTRACT:
The article deals with the relationship between the Italian trade union «CISL» and the evolution of Italian labour law. After analyzing the history of post-war employment law in relations to the positions of CISL, the Author suggests that the «new trade union» (il sindacato nuovo) has exerted a considerable influence on important tenets of Italian employment law, like the conceptualization of collective agreements and concertation. The Author concludes that the role of CISL in the evolution of Italian labour law, albeit very important, is constantly downplayed because most legal scholars are closer to the main trade union confederation, «CGIL».

KEY WORDS: trade union «CISL», evolution of labour law, history of CISL.

SOMMARIO:
1. Ipotesi di ricostruzione dei rapporti tra CISL e Diritto del lavoro. – 2. La nascita della CISL e il Diritto del lavoro post-bellico. – 3. La coincidenza tra il Diritto del lavoro e le prime elaborazioni della CISL: inattuazione costituzionale e modelli di transizione. – 4. La convergenza sulla contrattazione collettiva. – 5. L'avversione alla legge sui licenziamenti. – 6. La tiepidezza verso lo Statuto dei lavoratori. – 7. La legislazione di matrice sindacale e la concertazione. – 8. L'accordo Ciampi. – 9. La CISL e la flessibilità. – 10. Gli enti bilaterali. – 11. Gli assetti contrattuali.
Browse the archive
Recent issues
Available online
2012

issues