Occupazione, protezione sociale, nuovi modelli di welfare: alcune riflessioni
digital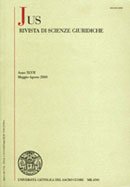 Ebook format Pdf readable on these devices:
ABSTRACT: The article deals with the present challenges that the Italian model of welfare state is confronting. The author concentrates his attention particularly on the pension system and on the social benefi ts in case of unemployment. The fi rst one appears too generous for a population which is ageing quite fast: however, any reform must take into account the role played by retired people as substitutes for services and benefi ts provided in other countries by welfare state schemes. The system of benefi ts for the case of unemployment is patchy: it is particularly weak for people with atypical jobs. In conclusion, the author criticises a tendency of the recent reform of Italian welfare state to swap hard rights for weaker positions; in his opinion, the main challenge of Italian welfare state lies with increasing individual and responsible involvement of citizens in the provision and fi nancing of the services.
KEY WORDS: welfare state, pension system, occupational pensions, unemployment benefits.
SOMMARIO: 1. Vecchi e nuovi modelli di welfare: il modello assicurativo come riferi mento – 2. Sistema delle pensioni e invecchiamento demografi co: una questione decisiva e cor rettamente affrontata? – 3. Nuove realtà produttive e polifunzionalità degli ammortizzatori sociali – 4. Fasti e nefasti delle assicurazioni sociali – 5. I grandi temi in contesa: pubblico-privato, soli darietà-merito, responsabilità- assistenza – 6. Tensione alla libertà, accettazione del rischio, individualizzazione delle tutele – 7. Verso nuovi modelli, tra ambiziosi propositi, equivoci, contraddizioni, povertà di risorse dedicate.
Browse the archive
Recent issues
Available online
2010

issues